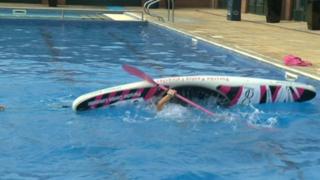 Teacher sets new Eskimo roll world record
A PE teacher from Nottingham has set a new world record for doing 30 Eskimo rolls in under a minute.
Lots of pupils were there to cheer on Miss Barnes as she splashed her way to glory, smashing the world record of 25.
Eskimo rolls involve turning upside down in a kayak.
This is the teacher's third world record.
Watch more Newsround videos