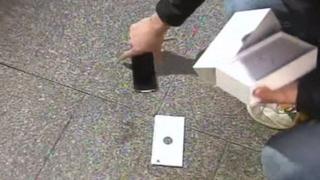 First buyer drops brand new iPhone 6
Jack Cooksey became the first person to buy the new iPhone 6 in Perth, Australia, after queuing overnight - only to drop it as he was interviewed by Channel 9 News.
There were cries of shock from the crowd as his new gadget landed on the ground.
"All good," said Jack before rubbing the screen; "I think it's okay," added reporter Liza Fernandez.
That's definitely not the best way to test how strong your screen is.
Watch more Newsround videos