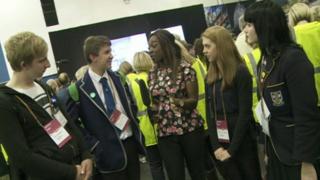 Young voters stay up to watch results
On 18 September, people in Scotland voted in their millions on whether to become independent from England, Wales and Northern Ireland.
Just after 6am on Friday morning, the news came through that more people had voted No than Yes, meaning Scotland stays as part of the UK.
The final result was greeted with huge cheers by the No campaign supporters.
The end of a very long night for everyone involved including these young voters who stayed up to watch the votes being counted.
Watch more Newsround videos