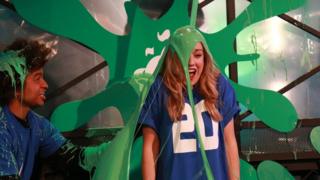 On Thursday afternoon, Blue Peter attempted to break the world record for the most number of people gunged in three minutes.
The record stood at 49 people.
The team smashed the record with an impressive 59 gunges.
But one person did have to be disqualified because they weren't fully gunged.
Newround's Jenny was one of the lucky, or maybe not so lucky, few to get slimed as part of the record attempt.
Click here to watch the whole record attempt. Can you spot Jenny?