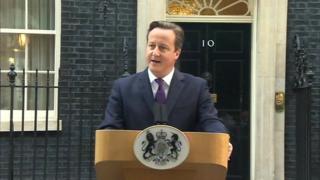 "I am delighted" says Prime Minister
As Scotland votes ''no'' to independence, Prime Minister David Cameron has said it is ''time for our United Kingdom to come together and move forward''.
The "No" side has an unassailable lead of 1,877,252 votes to 1,512,688.
Speaking outside Downing Street, the prime minister said he was ''delighted'' with the outcome.
''There can be no disputes. No re-runs. We have heard the settled will of the Scottish people," he said.
Watch more Newsround videos