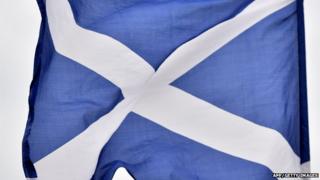 AFP/getty images
After weeks of campaigning across the country, Scottish voters made their decision yesterday by answering yes or no to the question: "Should Scotland be an independent country?"
Scotland has been part of the UK for more than 300 years, so the referendum was a huge moment for the country.
With almost all the votes now counted, the 'No' side passed the winning total of 1,852,828 needed to win the referendum just after 6am on Friday morning.
Scotland has voted to stay in the United Kingdom.
We want to know your thoughts on this decision.
What are your thoughts on the Scottish referendum result?
Are you happy Scotland is still part of the United Kingdom?

Did you want Scotland to be an independent country?

What do you hope happens to Scotland now in the future?
Your comments
I did want independence because the people that live in Scotland should be in-charge and we need more oil.
Grace, Edinburgh, Scotland
I am happy because if they weren't still part of the UK most things would change.
Sarah, Stockport, England
Scotland will be much better off working together with her sister country, rather than standing alone. Two is better than one.
Carol, London, England
I am overjoyed with the result! I stayed up last night and was delighted with the result! Scotland definitely made the right decision!
Erin, Scotland
I simply think it's great!
Alanna, Pontypool, Wales
I think this is what is best for Scotland at the moment because they did it fairly. They asked 97% of the Scottish population what they actually wanted. So if that is what they wanted then I guess that is the best.
Shifra, Surrey, England
I'm pretty annoyed since the country didn't vote for independence. I would like to see Scotland be an independent country.
Kallum, Scotland
I like Scotland and I didn't want it to be independent so I'm happy.
Hamnah, Walsall, England
I was so exited to see the news! I thought Scotland was going to be independent but it is not. Its good to be back to normal.
Radwan, Birmingham, England
Yes, I think the UK should stay together but I don't think there should be further devolution.
Madeline, Torfaen, Wales
Personally, I'm very pleased with the result of the referendum. Great!
Stijn, Wetteren, Belgium
I am very upset with this decision because I always wanted to be free on our own.
Jonathan, Stonehouse, Scotland
I'm glad Scotland are still part of the UK, I would have voted 'no'.
Olivia, Northern Ireland
This chat page is now closed. Thanks very much for sending us your comments.