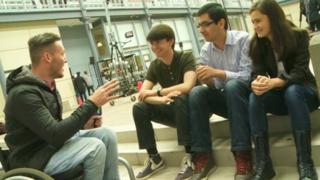 Young voters discuss referendum
On Thursday young people in Scotland aged 16 or over will be able to vote to decide the future of their country.
They'll be asked to vote yes or no to one question - should Scotland be an independent country?
Momin, James and Amy Jo are all 16 years old and will be taking part.
Momin hasn't decided whether he will vote yes or no. James and Amy Jo explain the reasons behind their vote to him.
Martin went to meet them.
Watch more Newsround videos