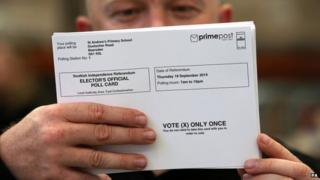 PA
Today millions of Scottish people will decide the future of their country in a referendum.
They're being asked to vote yes or no to one question - should Scotland be an independent country?
Here's your guide to the vote...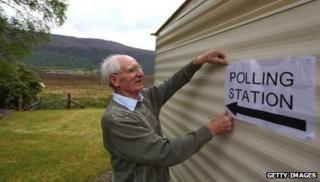 Getty Images
Who can vote?
People over the age of 16 living in Scotland can vote. It's the first time people aged 16 and 17 will be allowed to vote in a referendum. Usually in the UK the voting age is 18.
How do people vote?
Most voters will go to their nearest polling station which is normally a local school or community centre. At the station they'll be given a ballot paper with their choices on it and asked to put a cross in the "yes" or "no" box. This is done in a secret booth, before the ballot paper is placed in a ballot box. Polling stations are open between 7am and 10pm and voting can only take place within that time. Primary schools and nurseries across Scotland will be closed so people can vote.
What will the result look like?
There will be only one result - the total number of votes cast in favour of "Yes/No" to the referendum question: "Should Scotland be an independent country?" The winning side only needs to win by one vote or more.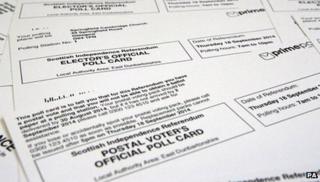 PA
Who is voting?
There are an estimated 4,410,288 people over 16 living in Scotland, according to 2012 figures from the Scottish government. The 4.2 million registered voters suggests that 97% of the total number of people eligible to vote have registered. A record number of people have also registered for a postal vote, with the total reaching 789,024.
How will they be counted?
The votes will be counted as soon as the polls close. When the votes been confirmed and checked, the chief counting officer will announce the result.
When will we know the result?
It's impossible to say exactly when the final result will be announced but it's expected to be early on Friday 19th September, the day after the vote.
They'll be live coverage of the results across the BBC, on TV, radio and online.