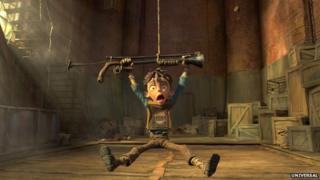 UNIVERSAL
Stop-motion 3D animation The Boxtrolls has topped the UK box office, taking over £2m in its first week of release.
The film tells the story of a boy called Eggs who is brought up by trolls who collect rubbish. Eggs must save the Boxtrolls from a pest controller.
Many famous voices can be heard in the film including Ben Kingsley, who also starred in Hugo, and Simon Pegg who plays a clever inventor.
The film is based on the children's novel 'Here Be Monsters' by Alan Snow.