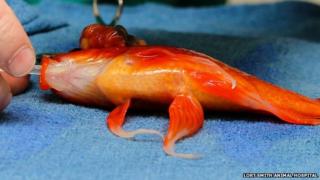 Lort Smith Animal Hospital
A goldfish in Australia is recovering from surgery after a life-threatening tumour was removed from its brain in a "high-risk" operation.
The owner, who lives in Melbourne, decided that George the goldfish should have the £125 procedure.
Dr Tristan Rich, who carried out the surgery, told a local radio station that the fish was now "up and about and swimming around".
Vets say the 10-year-old fish could now live for another 20 years.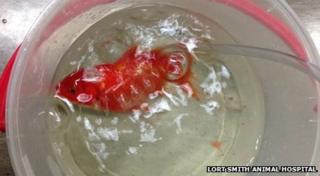 Lort Smith Animal Hospital
Dr Rich described the 45-minute operation as "fiddly".