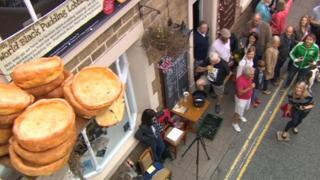 Pudding throwing champion crowned
Do your parents tell you not to throw food? Then show them this.
It's The World Black Pudding Throwing championships in the town of Ramsbottom in Lancashire.
Competitors chuck their puds up to a platform to try and knock off as many Yorkshire puddings as possible.
The event's been running for more than one hundred years and attracts pudding throwers from as far afield as Australia.
Watch more Newsround videos