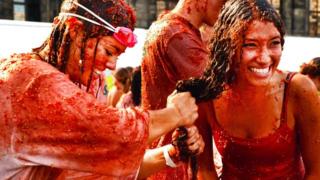 Hundreds take part in big tomato fight
Hundreds of people in Amsterdam have had a giant tomato fight.
People were protesting against a decision taken in Russia last month to no longer use fruit and vegetables from Europe.
Russia made the move due to sanctions put in place on the country by other nations following the conflict in Ukraine.
Find out what's happening in Ukraine here
Dutch food producers say they're being strongly affected.
The food fight was inspired by 'La Tomatina' tomato fight which takes place in Spain every summer.
Watch BBC Reporter Anna Holligan get caught in the middle.
Watch more Newsround videos