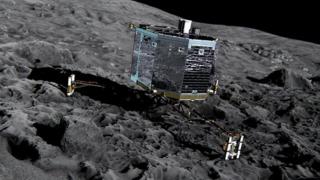 Space probe's comet landing site revealed
Scientists at the European Space Agency have revealed the landing site chosen for the Rosetta spacecraft.
They have spent weeks studying the "ice mountain" looking for the best location for the small robot to be released.
The surface of the comet is very uneven because there are deep dips and high cliffs.
Scientists have chosen a site called "J" which they hope will be a smooth area.
Ricky has the story.