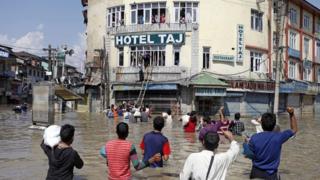 Floods trap hundreds of thousands
Efforts to rescue hundreds of thousands of people in northern India trapped by floodwaters have been disrupted by fresh rainfall.
The Indian Air Force said it had suspended operations to rescue people until the rain cleared again.
More than four hundred people have died in India and Pakistan after days of heavy rain triggered flooding and landslides.
The damage in Indian-administered state of Kashmir has been estimated at at more than eight hundred million dollars.
Criticism of both the Indian and Pakistani governments' handling of the disaster is growing.
Watch more Newsround videos