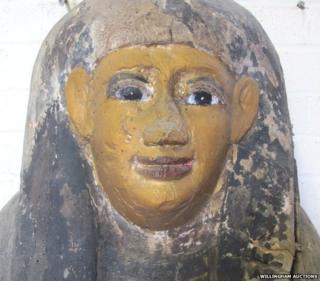 Willingham Auctions
An ancient Egyptian sarcophagus lid found in "an Indiana Jones moment" at a house in Essex has fetched £12,000 at auction.
The top of the coffin is believed to be about 3,000 years old.
The new owner, who did not want to be named, said it will go to a museum.
The 6 ft 5in (2m) tall Egyptian artefact was previously owned by big game hunter and journalist Captain 'Tiger' Sarll, who died in 1977.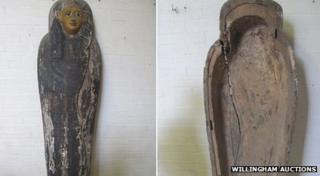 Willingham Auctions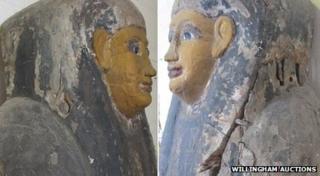 Willingham Auctions
Stephen Drake, from Willingham Auctions, found the relic propped up in the corner of a room after being called to help clear Capt Sarll's former home which was being renovated.
"It was like something magical having found it... and then selling for £12,000 is fantastic," he said.
"I felt like Indiana Jones, it was amazing because it was just a normal call.
"The only way into this room was through this big hole in the wall and there was this coffin top covered in cobwebs and dust so it was just like walking into a tomb."