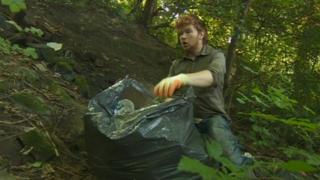 Litter pickers join global clean-up day
How would you feel about clearing up some else's rubbish?
Well - today the world unites to reduce the amount of litter on our streets, parks and woods.
The 'Lets Do It 'campaign launched in Estonia in 2008 and has since spread across the globe.
Thousands of volunteers, in more than 100 countries, will give up a few hours of their day to help clear up the communities they live in.
These helpers at a woodland in the North West of England told us why they're getting involved.
Watch more Newsround videos