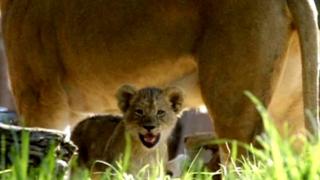 Supercute lion cubs at US zoo
Four lion cubs have been shown off to the public for the first time since their birth on 22 June.
The African lions had been hidden away in their den being cared for by their mother, Oshana, at the San Diego Zoo Safari Park in California.
But on Thursday Ernest, Evelyn, Marion and Miss Ellen went out to the main enclosure.
Keepers say the cubs follow their mum around at the moment but sometimes run off to play in grass or climb rocks.
Watch more Newsround videos