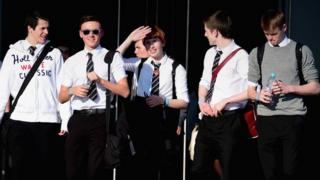 Teenagers debate Scotland's future
One week before Scotland votes to decide on independence, teenage first-time voters from around the country travelled to Glasgow to debate Scotland's future.
Thousands of 16 and 17-year-old first-time voters took part in the event at the SSE Hydro centre.
There they quizzed politicians and personalities from both sides of the campaign about issues important to them.
The Scottish referendum will be the first time ever that 16 year olds will be allowed to take part in a big vote.
They'll be helping to decide whether or not Scotland should become an independent country, separate from the United Kingdom.
Ayshah went to meet some of the young people who took part in the debate.
Watch more Newsround videos