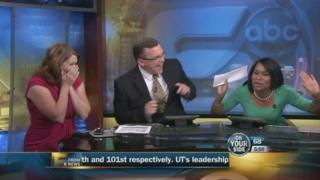 Bat dive bombs US news channel
Presenters at a US TV station had a shock on Wednesday morning when a bat started flying around their studio.
Good Morning Tennessee's Bo Williams, Tearsa Smith and meteorologist Julya Johnson were on air at 5.45 when the creature made its onscreen appearance.
The TV station say they managed to catch the bat several hours later - and plan to release it in a wooded area.
Watch more Newsround videos