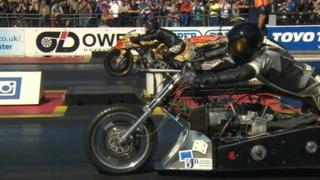 High-speed escape for drag racer
A motorcycle drag racer had an incredible high-speed escape at the Santa Pod Raceway when he leaped from his own bike to his competitor's at 150mph.
Greek racer Filippos Papafilippou's bike crossed the race centre line and bumped into Steve Woollatt's bike in the next lane.
Filippos was thrown off his bike and landed on the metal wheelie bars behind Steve's bike and got his foot caught.
Emergency crews had to to cut Filippos' trapped foot free from under the wheelie bar but amazingly he wasn't hurt.
He came away with only a mark on his skin under his leather racing boot.
Watch more Newsround videos