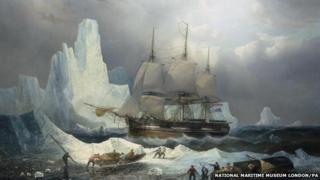 National Maritime Museum London/PA
The wreck of a ship which was lost in the Arctic more than 160 years ago has been found.
Two British ships set off to explore the Northern Passage in the Canadian Arctic in 1845 but never returned.
It's thought the ships became trapped in ice as the ocean froze around them and the men who went on the voyage were never seen again.
The Franklin expedition's disappearance became one of the great mysteries of the age of Victorian exploration.
Mystery
The loss of the two ships called HMS Erebus and HMS Terror led to one of largest searches in history, running from 1848 to 1859.
The mystery has gripped people for generations, in part because no one knows for sure exactly what happened to the crew.
Canadian Prime Minister Stephen Harper said it was not clear which ship had been found, but photo evidence confirmed it was one of the two.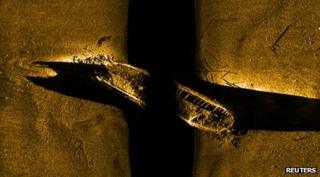 Reuters
The discovery of the two ships is considered one of the most sought-after prizes in marine archaeology.
A team of Canadian divers and archaeologists has been trying to find the ships since 2008.
Prime Minister Harper said in a statement: "I am delighted to announce that this year's Victoria Strait expedition has solved one of Canada's greatest mysteries, with the discovery of one of the two ships belonging to the Franklin Expedition."