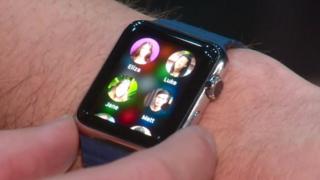 New Apple Watch launched in America
Technology giant Apple entered the smartwatch market on Tuesday, unveiling its first wearable at an event in California.
The Apple Watch runs apps, acts as a health and fitness tracker and communicates with the iPhone.
It is a touch screen and has a special "digital crown" button, which lets wearers navigate around the menus.
See BBC reporter Richard Taylor trying out the new device.
Watch more Newsround videos