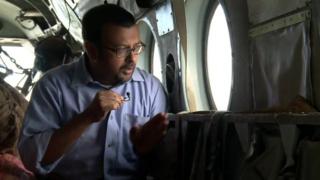 Food is being flown to flood victims
The death toll from floods in India and Pakistan has passed 375 as authorities continue efforts to rescue hundreds of thousands of stranded people.
Officials in both countries are engaged in relief operations. In many areas the only way to reach people cut off by the floodwaters is by air.
Sanjoy Majumder flew on an Indian air force helicopter which was delivering food to people in the part of Kashmir run by India.
Watch more Newsround videos