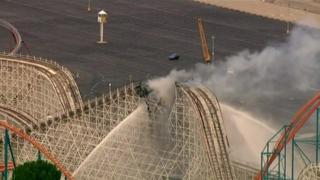 US rollercoaster collapses in fire
A rollercoaster in America has collapsed after it set on fire.
The Colossus ride at the Magic Mountain park in California began to crumble as the fire spread through its wooden frame.
The ride was the tallest and fastest rollercoaster when it opened in 1978.
Luckily it was closed for renovations when the fire broke out and no one was hurt.
Watch more Newsround videos