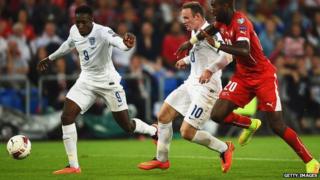 Getty Images
England made a good start to their Euro 2016 campaign with a win against Switzerland.
Danny Welbeck scored twice as England beat Switzerland 2 nil in Basle.
The game had been billed as the toughest of England's qualifying group.
England manager Roy Hodgson believes the win could be the start of a new way of working for his side.
He said: "It was a bold approach but we decided there was no point coming here for a 0-0, we want this team to progress."
"When we can counter-attack, the pace, energy and youth of the team is shown."