The Duke and Duchess of Cambridge have announced that they are expecting another baby.
It will be their second child and a little sister or brother for Prince George.
The Queen and members of both William and Kate's families say they are "delighted" with the news, according to Kensington Palace.
Prince George was born in July last year and is third in line to the throne behind William and Prince Charles.
Early announcement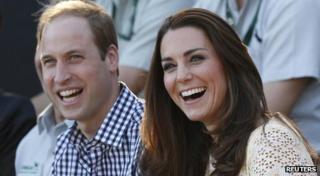 Reuters
The Duchess hasn't yet reached the 12-week stage of her pregnancy, which is when most mums-to-be announce they are having a baby.
She was due to take part in an official visit to Oxford University with William on Monday but had to pull out because the pregnancy has made her feel quite ill. That was why the palace decided to announce the news early.
The baby is due in the spring next year and will be fourth in line to the throne, whether it is a boy or a girl.
You can watch Ricky's report on the baby above or why not try our Royal baby quiz and see if you can spot what Harry, William and the other young royals looked like when they were little.