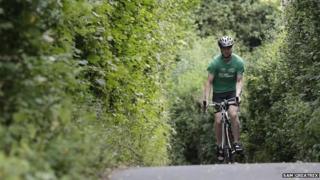 Sam Greatrex
Sam Greatrex from the West Midlands has started a world record attempt.
He hopes to travel around the world using only human power in order to raise money for a cancer charity.
The 29-year old plans to row and cycle 32,000 miles. It is likely to take him around 18 months.
He will cross two oceans and 26 countries.
Sam has suffered from cancer in the past and wants the money raised to fund a chemotherapy unit at a hospital.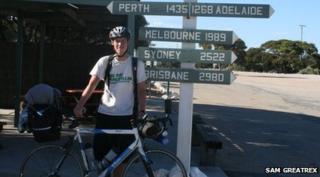 Sam Greatrex
Sam said the challenge had only been completed by two people before. He says he is not naturally sporty, "my best credential is fourth in the primary school beanbag race."
Eight months of the journey will be spent at sea, with three or four friends joining him.
However, he will cycle the remaining 18,000 miles on his own, crossing mountains and deserts.