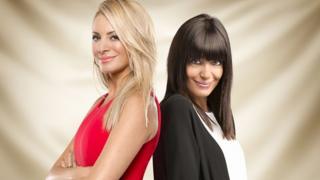 Strictly Come Dancing returns to our TV screens tonight.
You can expect lots of glitz and sparkle as this year's celebrities dance on screen for the first time!
The star-studded celebrity line-up includes singer Pixie Lott, Frankie Bridge from The Saturdays, Radio 1 DJ Scott Mills and Deadly 60's Steve Backshall.
Judges Len Goodman, Darcy Bussell, Craig Revel Horwood and Bruno Tonioli return to provide their expert advice.
What do you think?
Are you excited about the new series?

Which celebrity are you most looking forward to seeing?

Who do you want to win?
Thank you for all your comments. This chat page is now closed but you can read some of your messages below.
Your comments
I'm so excited for Strictly because I have watched it since I was little with my mum, dad and brother. I'm looking forward to seeing two female presenters on the first night. I really hope Gregg Wallace does our family proud.
Harriet, West Sussex
I am so excited for Steve Backshall and Gregg Wallace, because I love Deadly Pole to Pole and Masterchef. But I'm quite sad to see Brucie go.
Oskar, Brighton
I am excited about the series. I am looking forward to seeing all the celebrities as they are my favourites. I want Pixie Lott or Sunetra Sarker to win.
George, Bedfordshire
I am very excited! I can't wait to see Steve dance but I hope Gregg Wallace wins as I am a great fan of his cooking.
Harvey-Alan, Birmingham
I am super excited because Judy Murray is from Dunblane and I think she will win.
Keira, Dunblane
I am really excited that Steve Backshall will be performing, I can't wait to see if he can dance!
Stephanie, Powys
I am so excited about the show! The popcorn's already out on my living room table!
Olivia, Northern Ireland
I haven't watched Strictly for a while, but the contestants seem really good this year. I hope Caroline Flack or Pixie Lott win!
Imaan, Ilford
I love everything about Strictly. I think they have really mixed up the line up this year and it will be fun and exciting to see how everyone will progress.
Lucy, Northamptonshire
I'm so glad that Strictly is back. I've been watching it since I was young, I look forward to watching this series. I'm hoping Pixie Lott wins it.
Lauren, Powys
I am so going to watch Strictly this year, curled up in front of the fire, singing to all the songs!
Esther, Sheffield
I'm not very excited but my Nanna will be, she loves the show and takes dance class but doesn't do very well!
Chloe, Grimsby
I'm definitely going to watch it even though it clashes with X Factor! I can't wait to see Gregg Wallace and I hope Pixie Lott does well! I think Tim Wonnacott will be a funny dancer!
Libby, Bath
I'm very excited about Strictly coming back on because all my family sit down together and watch it. I am excited about seeing Pixie Lott and Gregg from Masterchef.
Eleanor, Gloucestershire
I am really exited. I love Strictly so let's get ready for a really good competition.
Cian, Neath Port Talbot
I am very excited about Strictly Come Dancing. I'm excited about Jake Wood and Frankie from The Saturdays.
Amy, Preston
I am really looking forward to the new series of Strictly as it's my favourite TV show. Really good line up this year. Good luck everyone!
Kayley, Andover