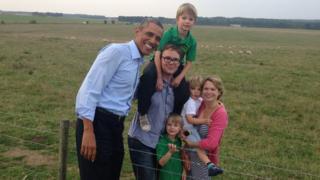 US President Barack Obama has paid a visit to Stonehenge in Wiltshire, and said 'hi' to a local family there.
He had been in the UK for the Nato summit which took place this week in Wales.
His presidential helicopter Marine One touched down at Boscombe Down Airbase before he was driven to the popular tourist spot in his motorcade.
English Heritage, who look after the site, said it was "an honour" to host the president.
General manager of Stonehenge, Kate Davies, said, "Every day people from all over the world make the trip to the ancient stones but this visit was a particularly special one."
The president received a guided tour of the ancient monument from Heather Sebire.
She said Mr Obama "was fascinated by the story of the stones, what we know about them and the mysteries that have yet to be solved".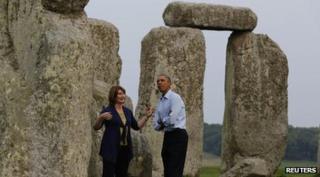 Reuters
She went on: "He described the atmosphere around the stones as 'really special' and his visit to Stonehenge as 'a highlight of my tour'. Mr Obama described seeing the monument as "cool"