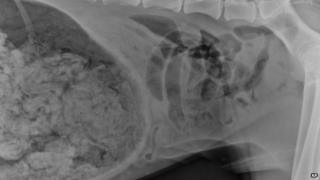 AP
Vets in America had a surprise when they operated on a dog and found 43 and a half socks in its stomach.
The 64kg Great Dane liked chewing socks but no-one knew he was swallowing them whole.
The vets, who operated on the dog in February, said that it was the most socks they had pulled out of an animal.
The dog has now won a prize for its strange eating habits.
Luckily the dog made a full recovery.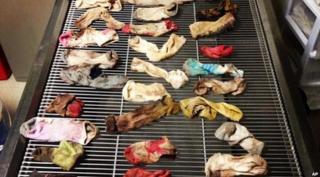 AP
Now the hungry dog has taken third place in a contest entitled "They Ate WHAT?", organised by vet magazine Veterinary Practice News.
The top prize went to a frog that ate more than 30 ornamental rocks from his cage.
Judges also awarded other honourable mentions to a kitten that ate a toy alien figure and a golden retriever that swallowed a light bulb.