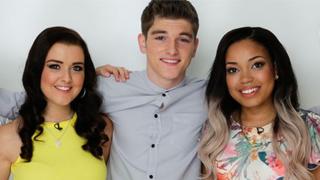 CBBC programme Friday Download is to be turned into a movie.
The popular show, which launched in 2011, features segments covering dance, style, music, gaming and TV.
In the movie version the show's presenters, which include Amy Winehouse's goddaughter Dionne Bromfield, head off on holiday where they are drawn to a spooky house.
Outnumbered's Tyger Drew Honey, who is a former Friday Download presenter, will also star in the film.
There will be cameos from pop band The Vamps and Britain's Got Talent stars Bars and Melody.
Along with Bromfield, the film's cast will include the current line-up of presenters Richard Wisker, Shannon Flynn, George Sear and guest host Bobby Lockwood.
Wolfblood actress Louisa Connelly-Burnham will also appear in the film.
The Friday Download Movie will begin a four-week shoot on 6 September in and around Swansea.
The film's producers, Jules Elvins and Dan Shepherd, said the film "targets a TV audience that is under-represented in the cinema and we hope to put that right".
The TV show begins its eighth series on CBBC in October.