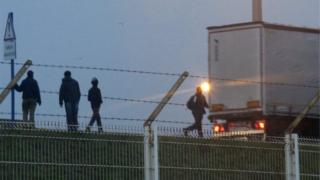 Migrants taking risks to reach UK
Dozens of migrants trying to reach the UK - are taking big risks by jumping into cars, lorries and on ferries at the port.
Extra security has been brought in and drivers are being given help on how to check their lorries so they don't accidentally bring in migrants, who have secretly got inside or on top of their vehicles.
It's after dozens of migrants tried to storm a ferry bound for Dover.
Watch Hayley's report from 28th May about the reasons migrants want to come to the UK.
Watch more Newsround videos