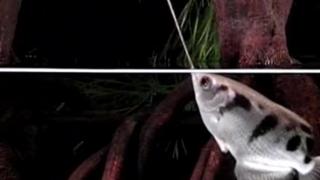 Archer fish uses water to shoot prey
Archer fish "tune" the jets of water they use to shoot down prey, according to researchers in Germany.
In a new study that used high-speed cameras to view the fishes' spitting performance up close, scientists found that the fish could change how they shot the water depending on how far away the target was.
They trained two of the fish to hit targets at distances from 20cm to 60cm, under bright lights to help with filming.
Published in the journal Current Biology, the study suggests that the skills of these fish are similar to those of humans.
Footage courtesy of Current Biology / Ingo Rischawy (Schuster lab, University of Bayreuth)
Watch more Newsround videos