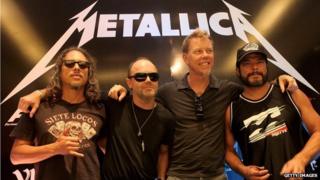 Getty Images
Heavy metal giants Metallica have been entered into the Guinness Book of World Records after becoming the first band to play on all seven continents in the world.
The US band's achievement was completed within one year, following shows in North America, South America, Europe, Africa, Asia and Australasia, topped off with a chilly gig in the Antarctic!
This comes after they became the first heavy metal band to headline the legendary Glastonbury festival in the summer.
Metallica have sold over 120 million albums worldwide in a career lasting more than 30 years.