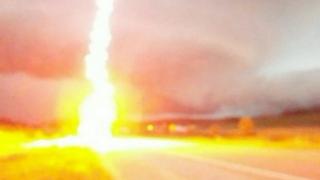 Video shows man get hit by lightning
A man has been struck by lightning in Iowa, United States, and it was caught on camera.
Danny Murphy and his son, Derrick, were out filming the storm when the lightning struck.
Incredibly Danny survived and is recovering in hospital, whilst Derrick was thrown into a car by the bolt, but wasn't injured.
Hopefully lightning doesn't strike twice for this lucky man!
Watch more Newsround videos