The largest gathering of international leaders ever to take place in the UK has begun in Wales: the Nato summit.
More than 60 world leaders, including US President Barack Obama and British PM David Cameron, are attending.
Thousands of others will also be at the event, including representatives from each of the 28 Nato member countries.
Nearly 10,000 police officers from forces across England and Wales are on duty as part of a major security operation.
Nato leaders will spend the next two days discussing the most important things in the world right now: like the problems in Ukraine, Iraq and Afghanistan. They'll also talk about spending on the armed forces.
President visits school
President Obama and David Cameron visited a primary school in Newport before the summit, and chatted to some of the pupils there.
The summit is the first time the UK has hosted a Nato summit since Margaret Thatcher was Prime Minister in 1990.
"The largest gathering of international leaders ever to take place in the UK is starting in our home country here and now," said Wales' First Minister Carwyn Jones.
He added: "The Nato Wales Summit is an exciting and historic moment for our country and I am confident we will shine on the world stage."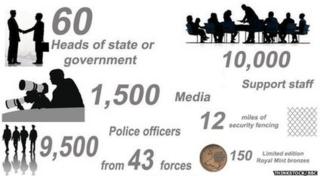 Thinkstock/BBC
What is Nato?
The North Atlantic Treaty Organisation (Nato) is a military union, backed by the nuclear weapons of the United States, France and the United Kingdom.
It was created in 1949 after the end of World War Two.
There are currently 28 member states plus three in the process of joining: Bosnia and Herzegovina, Montenegro and Macedonia.
Although Nato has carried out military operations in the Balkans, North Africa and the Middle East, its primary aim is defence.
Its alliance - that an attack on one member is deemed to be an attack on all - has only been called on once, after the September 11 terrorist strikes on the US in 2001.
The attack led to the invasion of Afghanistan by Nato members.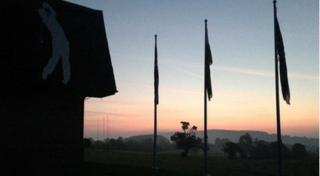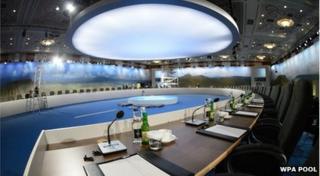 WPA Pool