Disney has announced it's bringing Frozen back for a special one-off short adventure called Frozen Fever.
It will feature Anna, Elsa, Kristoff and Olaf the snowman and will see Elsa's icy powers threaten to overshadow Anna's birthday party.
The Oscar-winning animation is now the biggest animated feature of all time and has made nearly £790 million at the worldwide box office.
Frozen Fever will be shown in spring 2015, according to Variety.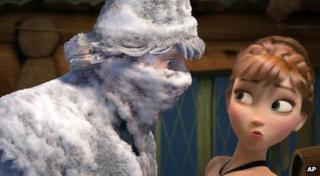 AP
The new animated short film will feature a new original song by Robert Lopez and Kristen Anderson-Lopez, who won an Academy Award for Let It Go.
Both Jennifer Lee and Chris Buck will return to direct it, although it's not yet known exactly how Frozen fans will get to see it.
Two more short films have also been announced by Disney. Pixar's Lava will feature a Hawaiian volcano who sings Somewhere Over the Rainbow and will be played ahead of Inside Out, which is due in cinemas early next summer.
A Boston terrier puppy called Winston, who shares meals under the table with his owner, is the star of Feast and will be seen alongside Big Hero 6, due later this year.