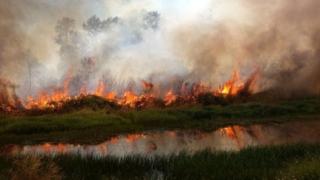 Wildfires rage in northern California
This wildfire has been raging since Tuesday in the American state of California, putting hundreds of homes in serious danger.
Fire fighters said the blaze spread quickly in Siskiyou County. They're are also battling a number of smaller fires.
Around 250 homes have been evacuated, but up to 750 are at risk.
The blaze has already destroyed 100 square miles of forest, but so far no-one's been hurt and no houses have been damaged.
The fire was sparked by lightning in mid-August.
Watch more Newsround videos