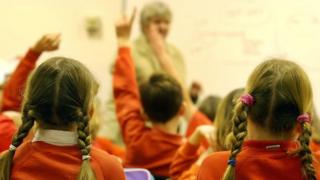 BBC
It's a new term, and we want to know what's cool at school?
Most of the country's now back in class after several weeks off over summer.
Some of you will be in new schools, or maybe you've gone up a year group.
So we want to know what it's been like? Tell us your experiences and what you've enjoyed about being back in class.
Watch: Top tips for starting secondary school
Maybe you've got new classmates or a brilliant new teacher;

Perhaps you've changed schools, moving from year six to year seven...

Or are you learning a new subject?
This chat page is now closed but you can read a selection of your comments below.
Your comments
I love school. I can see all my friends and teachers, but I hate homework. I've just got lots of work to do.
Kyle, Knaresborough, England
I'm enjoying secondary school. I'm in yr 7! It seems massive compared to primary, but I'll find my way around.
Andrea, Surrey, England
I am a bit worried because we are having our GCSEs earlier, but I am pretty sure I will get the grades I want. On the other hand, I am so happy I will get to see my friends and learn something new!
Savira, Luton, England
I don't like being back at school. I like the 6 weeks holiday because I have no work.
Jake, Knaresborough, England
I am really scared about high school. I started today and I was excited, but when I was there I was really nervous.
Niamh, Stoke-on-Trent, England
I'm the only person going to my new secondary school from my primary school, but I have actually made two new friends and met nice teachers.
Ellie, Oxford, England