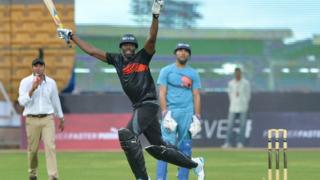 Bolt shows off on the cricket pitch
The fastest man in the world has been showing off his sporting ability, by trying his hand at another sport.
Usain Bolt went head to head with some of India's cricket stars in an exhibition match.
The track superstar used to play the game when he was growing up in Jamaica, but his dad convinced him to take up track and field instead.
Bolt is the world record holder in both the 100m and 200m,
Is there anything this man can't do?
Watch more Newsround videos