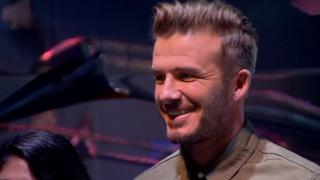 David Beckham talks about England
David Beckham says he is sad to see Danny Welbeck leave Manchester United but believes he will shine at Arsenal.
Striker Welbeck, who came through the Old Trafford youth system, joined the Gunners for £16m on transfer deadline day.
Beckham also backed the current England squad under manager Roy Hodgson and new captain Wayne Rooney.
He highlighted that Wayne "was the most experienced player" and "one that all the players look up to".
Watch more Newsround videos