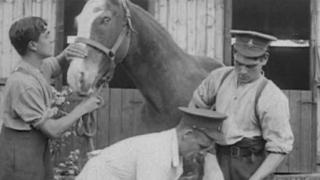 Warrior the war horse awarded medal
An heroic First World War horse is to be awarded the "animals' Victoria Cross" today in recognition of the bravery of millions of animals that served during the conflict.
The Honorary PDSA Dickin Medal is being presented to famous war horse Warrior, known as "the horse the Germans could not kill" at a special ceremony in London.
The medal will be accepted by author and broadcaster Brough Scott MBE, who is the grandson of Warrior's owner and rider General Jack Seely.
Despite suffering several injuries during the Great War, Warrior survived and returned home to the Isle of Wight in 1918, where he lived with the Seely family until his death aged 33.
Watch more Newsround videos