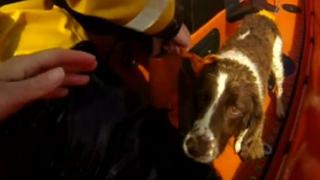 Dog rescued after 10 days on a cliff
A dog was rescued by the Royal National Lifeboat Institution (RNLI) on Sunday after going missing for nearly 10 days close to Foreland Point, in North Devon, England.
Sprig, the springer spaniel, had gone missing during a walk and was trapped on a rocky ledge when he was spotted in a chance sighting by the lifeboat team.
Andrew Escott, who was with the team who saved Sprig, said contacting the owners to tell them he had found their dog was the best call he has ever made.
Watch more Newsround videos