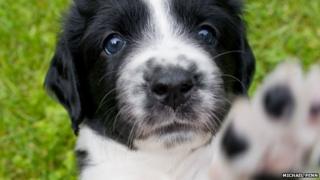 Michael Penn
The summer is over and most of you of you will be heading back to school this week.
You might even be experiencing 'back to school blues' as you reluctantly leave your holidays behind and return to class.
But an American researcher has claimed that the effect isn't limited to people; dogs also get upset when their young owners leave.
In a study they found that many dogs suffered from 'separation anxiety', which led them to bark, howl or whine when their owners were gone.
The research was compiled by Dr Nick Dodman of Tufts University's Cummings School of Veterinary Medicine in Massachusetts.
We want to know if your pets gets the blues when you leave them.
This chat page is now closed but you can see some of your comments below.
Your comments
My cat Wilberforce always whines when we take her out before school and stays in the garden the whole time with her brother Hamlet.
George, Bedfordshire, England
Our dog sits in the window to watch us go to school and he tries to pull our school uniform off us so we can stay home.
Poppy and Grace, London
When I come home from school my cat cat gives me all the love in the world.
Amber, London
My dog always sits right in front of the door so I can't open it. If we try to move him he whines and growls. I now have to use the back door to escape from my own house!
Candice, England
When I get home my cat is waiting at the front door, then she pounces on me when I start to stroke her!
Amber, Leicester, England
We take our border terrier puppy round to my nana and grandad's where she has company from another dog until we get home from school. Otherwise she cries and jumps up and whines at the door.
Hannah, Westhoughton, England
I don't have a dog but I have a cat. She's called Abbey. When I go to school she goes to sleep for most of the day. But when I get in from school she seems to wake up and sit on my lap because she wants a cuddle.
Joseph, Sunderland, England
My dog always sits at the front door waiting for me.
Emma, Falkirk, Scotland
When I get home from school my cat comes up to me and starts rubbing her cheek against me and I stroke her behind her ear.
Amy, Preston, England
My cat Merci doesn't miss my brother and me because she goes into my conservatory and looks out the window.
Catherine, Manchester, England
My dog whines whenever I leave and wants to come with me to school.
Layla, Birmingham, England