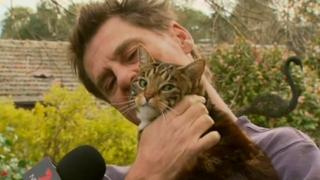 Sally the cat rescues owner from fire
A tabby cat called Sally is being hailed a hero after she saved her owner from his burning home in Melbourne, Australia.
49 year-old Craig Jeeves said the quick-thinking feline managed to wake him up when the house caught fire.
"She jumped on my head and sort of like was screaming at me and woke me up otherwise I wouldn't have got up," Jeeves said.
Jeeves said he adopted Sally from a cat's home several years ago and now she had returned the favour.
The fire service said he was lucky to have got out alive.
Watch more Newsround videos