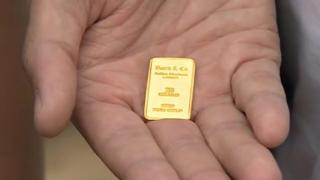 First gold bar found at Kent beach
The first of 30 gold bars that have been buried on a beach in Kent has been found.
Kevin Wood, his partner Kirsty Henderson and her sister Megan discovered it after digging for an hour at low tide.
Hundreds of people have flocked to the beach for a chance to find treasure.
Kirsty and Kevin talk about the moment they struck gold.
Watch more Newsround videos