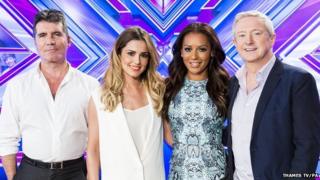 Thames TV/PA
The X Factor is back on our TV screens, with the big return of Simon Cowell and Cheryl Fernandez-Versini.
New addition Mel B adds a bit of spice, and Louis Walsh is back - of course!
Saturday's opening show had the usual mix of antics - from Simon smashing up a guitar to Cheryl crying when a former contestant of hers came back.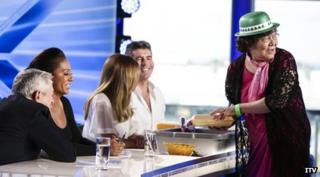 ITV
The X Factor has seen falling ratings in recent years, so TV bosses will be hoping the new panel can give the series a boost.
What do you think of The X Factor judges?
What did you think of the opening show? Are you glad to see Cheryl and Simon back? What do you think of new judge Mel B?
Or are you missing Gary Barlow and Nicole Scherzinger already?
This chat page is now closed but you can read some of your comments below.
Your comments
I wish Mrs O was still on the judging panel. She was my all-time favourite!
Sophie, Edinburgh, Scotland
If I could choose the judges I would have to pick Simon, Cheryl, Nicole Scherzinger and Gary Barlow. Because they all know what they're talking about.
Ellie, Guildford, England
I am a huge fan of The X Factor! I'm not quite sure Scary Spice really fits in with the other judges. Simon Cowell is a huge inspiration to me and I'm glad he is on the show!
Alys, The Netherlands
I think that it is better to have different judges every year. It's boring with the same old judges but I think that all of the judges this year are brilliant.
Saara, Bolton, England
I think it was good. But I'm not sure Mel B should be there. I love it when Simon and Cheryl are together. It's funny.
Hamnah, Walsall, England
I think that Sharon should have stayed instead of Mel B. Sharon was my favourite judge of all time!
Charlotte, New Malden, England
I love that Cheryl and Simon are back. It was not the same without them, they are a big part of what makes the show great! I am a massive fan of Cheryl. When she left, The X Factor suffered because none of the judges could ever compare to her.
Isobel, Hertfordshire, England
I think that these judges are a perfect line-up for this year because we'll maybe have drama between Simon and Cheryl, and Mel B could maybe be mean.
Natalie, Luton, England
I think Simon, Cheryl and Louis are really good choices but I don't think they should put Mel B on it as she hasn't given that much advice so far.
Laura, Hertfordshire, England
I am glad that Cheryl and Simon are back, but would like to see some new faces on the panel.
Holly, Ipswich, England
I like Cheryl; I'm glad that she's back! Mel B definitely adds an edge to the panel, and I think she will not be afraid to speak her mind later on!
Libby, Bath, England
I thought the contestant's mum who offered them Chinese food and cake was so funny ! I also thought that Mel B was a good addition to the judging panel!
Ava, Leeds, England
I thought Simon and Cheryl got along really well. They had a little fallout but then they quickly made up again. They look great together.
Amy, Preston, England
Because Cheryl and Simon are back more people will watch it so I think it is a HIT.
Amina, London, England
I'm glad that Cheryl and Simon are back but I do miss Nicole!
Megan, Leicester, England
I'd rather watch Doctor Who to be honest, The X Factor is always the same in my opinion.
Ollie, Macclesfield, England
I thought it was great and it was even funnier with Simon and Cheryl in it!
Emma, England
I loved it. I am glad that Simon is back and Louis because he is funny!!
Izzy, Oxford, England
I'm glad Cheryl and Simon are back. Simon's moodiness and Cheryl's kindness brings flavour into the show, especially when they argue!
Lizzie, Bristol, England
I'm sad that Nicole Scherzinger isn't on but I am glad that Cheryl and Simon are back on because it's like we're back in the past!!
Elizabeth, Middlesbrough, England
I like the judges so far but I wish they could bring back Nicole she was my favourite!
Erin, Glasgow, Scotland
I think Mel B and Cheryl will fall out or be the best of friends, so i am really excited!
Angharad, Pembrokeshire, Wales
I want Nicole back as she was kind!
Lucy, Leeds, England
I really enjoyed the show. I missed Nicole but I think Mel B is a funny addition to the judging panel.
Sarah, Caerphilly, Wales
I'm glad Simon is back because you need someone mean in talent shows to get the crowd excited and the crowd can say boo if it's mean. I wish Nicole was on The X Factor.
Eloise, Essex, England
I think it's much better with Simon back because it brings more drama to the show.
April, Surrey, England
I think the show has been amazing so far. I liked the bit when the contestant's mum gave out Chinese food and when that guy kept on singing for like 20 minutes and all the judges left except for Simon.
Isobel, Surrey, England
I think that they should bring back Nicole Scherzinger because she was my favourite judge.
Chloe, Belfast, Northern Ireland
I thought they were great, I'm glad Cheryl and Simon are back.
Lucy, Sutton, England
I think Cheryl should always stay in The X Factor because she's really good at inspiring people.
Jazmin, Birmingham, England