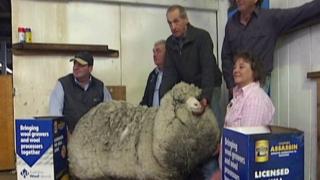 Woolliest sheep gets shaved
A super-woolly sheep that hadn't been shaved for six years has finally had a trim!
It's thought the sheep had been wandering in the wild for six years.
His fleece had grown so big it was hard for him to see.
Now farmers in Australia have given the sheep, nicknamed Shaun, a big shave.
Sadly for Shaun, he has not broken the current record for the heaviest coat.
Shaun's 23kg fleece has been outdone by a sheep found in New Zealand which had a 27kg fleece.
Watch more Newsround videos