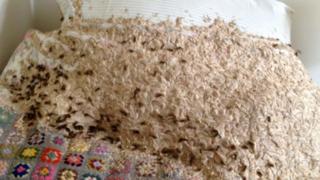 Giant wasp nest discovered in bedroom
A giant wasp nest almost a metre wide has been removed from a bedroom in Winchester.
It was found by a woman in a spare room at her house in St Cross.
She had left a window open and the wasps chewed through the pillows and the mattress to make the nest.
A pest controller was called in to get rid of it.
The nest contained 5,000 wasps and could have taken three months to build.
Picture courtesy of Longwood Services Pest Control.
Watch more Newsround videos