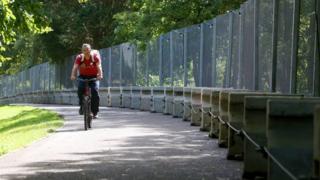 Security fence put up in Cardiff
A big metal fence has been put up in Cardiff city centre ahead of a big meeting of world leaders.
United States' President Barack Obama, Germany's leader Angela Merkel and the UK's Prime Minister David Cameron are just three of the world's most powerful people who'll be in Wales next week.
They're all attending an event called the Nato summit.
The aim of Nato is to ensure that its member countries don't fight each other.
It's no surprise that security in the city has been tightened - but some people in Cardiff think the fence is a bit too much.
Jordan Davies from BBC Wales told Newsround that the fences had caused big traffic jams, but were an important safety measure.
Watch more Newsround videos